02.08.2022
Germany's first climate-neutral gas pressure control facility
ONTRAS pilot plant in Potsdam saves up to 60 tonnes of CO2 annually
In Potsdam-Nesselgrund, ONTRAS commissioned Germany's first emission-free gas pressure control station in June 2022. Initial results show that it saves up to 98 percent primary energy compared to conventional plants. The innovative plant principle is suitable as a blueprint for gas transfer stations throughout Germany.
Before feeding into downstream networks, the gas pressure from the ONTRAS network must be significantly reduced. When the pressure drops, the gas cools down considerably due to the Joule-Thomson effect. "To prevent the pipes and fittings from freezing, the gas is preheated - until now via conventional natural gas combustion. In Nesselgrund in Brandenburg, we are now testing a new technology that can be used to operate gas pressure control stations in a CO2-neutral way," explains Dr Steffen Päßler, Head of the Central Network Division in the ONTRAS team.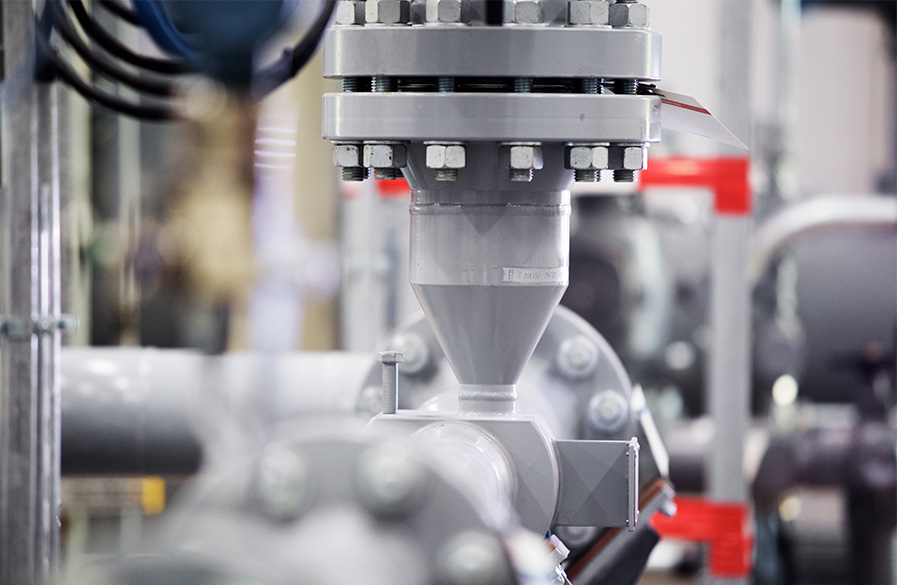 Functional principle of a gas pressure control system using vortex tubes
The basis for the emission-free gas preheating in Nesselgrund is the prototype of the so-called Ranque-Hilsch pipe developed in Brandenburg. ONTRAS is using this vortex tube process here for the first time to bring the gas to the desired temperature for feeding into Potsdam all year round. The gas flow from the long-distance gas grid is routed through three different vortex tubes, resulting in different temperatures at the outlet. There, these gas flows are regulated and combined in such a way that the desired temperature for feeding into the grid is achieved in each case. In this way, the plant in Nesselgrund saves 230 kW of conventional heat.

Great savings potential in costs and energy consumption
The innovative plant design is complemented by a photovoltaic system mounted on the roof of the plant building, which can generate the entire 10 kilowatts of electricity required in summer. In combination with the insulated and heat-optimised building, the finished plant runs climate-neutrally and requires a total of only 30 percent of the heating energy that would otherwise be needed. In total, 96 to 98 per cent primary energy is saved - an important milestone on our way to climate-neutral gas transport.
In addition, compared to a conventional plant with water pumps and forced-air burners, the vortex tube has no rotating parts and therefore works without wear - maintenance and servicing costs can be optimised if necessary.
The pilot plant in Nesselgrund is leading the way for such plants throughout Germany and beyond: vortex tube technology can ensure that an essential element of gas supply functions in a climate-neutral way in the future.