An eastern German hydrogen network –
integrated into the European hydrogen infrastructure
The establishment of a functioning hydrogen economy is critical for achieving the climate targets. We are using our transmission system and our know-how to actively shape the hydrogen infrastructure of the future and laying the foundation for a nationwide hydrogen supply in eastern and central Germany.
Potential of our network
We have been transporting hydrogen mixed with other gases from two power-to-gas plants in our network since 2013. But the infrastructure offers further potential because, as a transport system for hydrogen, it has the ability to connect producers, consumers and storage facilities and so provides the foundation for rapid market ramp-up and a functioning hydrogen economy. Our most pressing task is therefore to develop the necessary capacities for pure hydrogen and swiftly make these available in order to meet the future hydrogen transport requirements. With our start network for hydrogen, we are laying the foundation for this.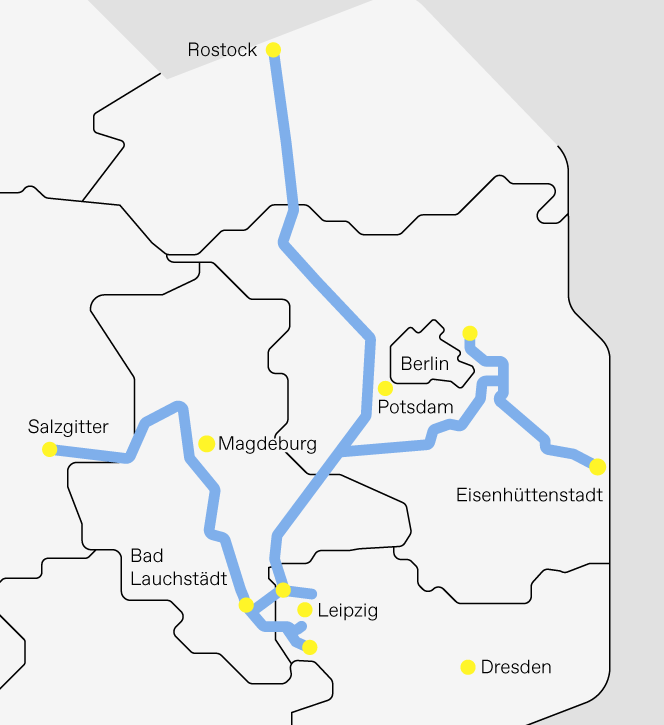 Start network for hydrogen - Foundation for an eastern German hydrogen network
At its core, a comprehensive eastern German hydrogen network with over 900 kilometres of pipeline will be in place by 2030 - with our projects doing hydrogen and Green Octopus Mitteldeutschland. 544 kilometres of these pipelines are ONTRAS natural gas lines that will be repurposed for hydrogen. An additional 377 kilometres of pipeline will be newly constructed. The lines connect producers, storage facilities and consumers of green hydrogen and provide access to import points.
We are focussed on ensuring a rapid market ramp-up of the hydrogen economy in Germany. This goal is also the reason behind out involvement in national and European committees and political as well as business organisations
Our hydrogen projects on the IPCEI shortlist
The market ramp-up of hydrogen technologies and systems is supported within the framework of the funding opportunities of the "Important Projects of Common European Interest (IPCEI)". Our hydrogen projects doing hydrogen, Green Octopus Mitteldeutschland and LHyVE Transport were selected by the Federal Ministry of Economic Affairs and Climate Action as three of 62 major German projects for funding in 2021. ONTRAS has submitted the corresponding pre-notification and funding applications 2022. In April 2022, the projects were pre-notified by the EU Commission.
Early start of measures confirmed by BMWK:
Start of work on the hydrogen network in eastern Germany
In December 2022, ONTRAS received approval from the Federal Ministry for Economic Affairs and Climate Action (BMWK) for the early start of measures for its infrastructure projects doing hydrogen and Green Octopus Central Germany submitted in the IPCEI Hydrogen. This allows ONTRAS to start work on the future hydrogen network in eastern Germany.
The selection of our hydrogen projects as part of the IPCEI funding was a strong signal. Now it's time to get the projects underway - and thus help shape the hydrogen network of the future. We at ONTRAS are involved with conviction and commitment.