Drive ideas and innovations.
Implement forward-looking projects.
We are absolutely convinced that strong gas infrastructure for transporting gaseous energy will remain an essential component of the sustainable and needs-based supply of energy well into the future. We are intensively working on innovative solutions and launching visionary projects to continue to advance the integration and transport of renewable gases, particularly hydrogen.
Climate neutral gas pressure control facility - a pioneering project for the gas industry
Germany's first emission-free gas pressure measurement and control facility is located in Potsdam-Nesselgrund. Here we use a globally unique combination of innovative technologies developed in Brandenburg with integrated heat exchangers. Together with heat-optimised building technology and a photovoltaic system mounted on the roof of the plant, it ensures that this ONTRAS plant does not consume any gas and only needs ten percent of the electricity of a comparable conventional plant. The first-time use of the vortex tube process is being funded by the German Federal Ministry for Economic Affairs and Energy. Prof. Jörg Steinbach, Brandenburg's Minister for Economic Affairs, Labour and Energy, described the plant as a pioneering project for the gas industry during the public presentation.
Impressions of the public presentation of the plant (October 2021):
Gas preheating with solar thermal energy
We are bringing a very special type of innovation project to life at our site in Kienbaum near Berlin. In future, ONTRAS will procure most of the energy for preheating the gas at the gas pressure regulator and measuring station at the site from its own solar thermal plant. The integration of solar thermal energy will save significant amounts of gas and CO2 in future. But, besides the exceptional innovative quality and sustainability of the plant, we also support the regional value chain by using regionally manufactured collectors.
"The use of innovative technologies is indispensable on the way to a renewable gas economy. We are actively shaping this process - like here in Kienbaum, at our second-largest plant. By using solar thermal energy to preheat gas, we will save significant amounts of gas at the station in the future - and thus CO2 emissions."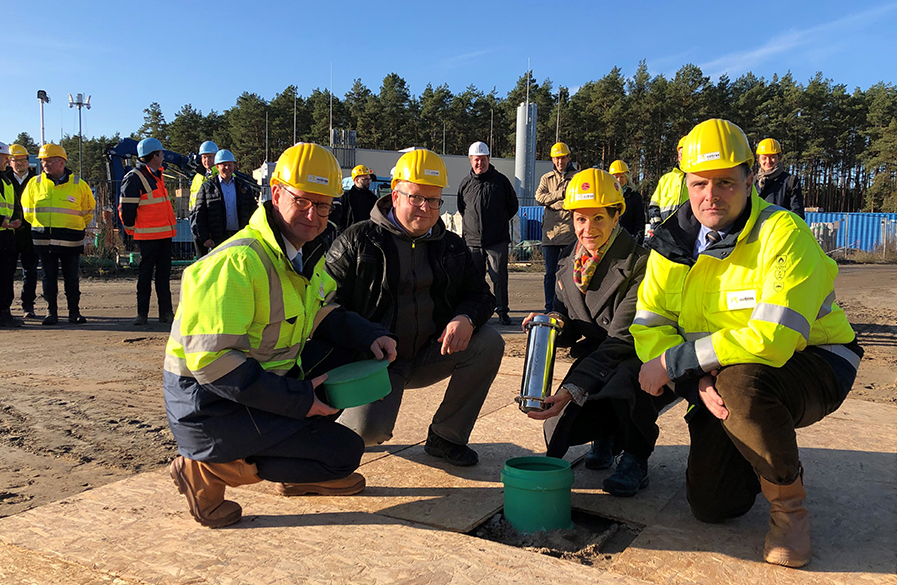 Commit to Connect 2050: a vision for the renewable energy system in eastern Germany
A vision for the energy infrastructure in eastern Germany was developed as part of the "Commit to Connect 2050" study, which we commissioned together with 13 partner companies. This illustrates the energy supply and utilisation technologies that will establish themselves by 2050 from economic perspectives and the types of networks that will be used to transport this energy. The calculation was not focussed on any specific results or technologies. The only premise was the development of an energy system that is renewable and ensures security of supply as well as optimised economic costs.
Information on the project CTC 2050
Project partners
Avacon AG
BALANCE VNG Bioenergie GmbH
E.DIS Netz GmbH
ENERTRAG AG
EWE NETZ GmbH
GASAG AG
SachsenNetze HS.HD GmbH
HanseGas GmbH
inetz GmbH
Mitteldeutsche Netzgesellschaft Gas mbH
ONTRAS Gastransport GmbH
Stadtwerke Lutherstadt Wittenberg GmbH
VNG Gasspeicher GmbH
Community of 14 energy companies
The CtC2050 partner companies represent different lines of business and various stages of the supply chain: Transmission and distribution grids, energy generation and storage. Together the CtC2050 partners own and operate an electricity grid of 280,391 km in length, a 94,417 km gas grid, a gas storage volume of almost 2 billion cubic metres, and supply approximately four million MWh of district heating. Already today, we feed about 50 million MWh of renewable electricity from wind and solar power generation into the grids. A total of 82 biomethane production facilities and one hydrogen production facility feed into our gas grids.
Innovative modelling open to results and technology
In order to calculate such a target for our region, an innovative method is required that provides us with a clear target scenario, independent of fluctuations in the political framework. The general criteria for the target scenario are climate neutrality, security of supply and economic cost optimisation. Based on these criteria, our calculations are technology neutral and without predefined goals. For this calculation, we also regard eastern Germany as an independent, self-sufficient energy system. The final innovation lies in regionalisation. The calculation was also carried out for nineteen sub-regions, which together cover the whole of eastern Germany and are connected via energy transmission networks.
Key results
Commit to Connect 2050 shows that it is possible to establish and operate a completely decarbonised energy system in a cost efficient manner. It is important to look at the entire system for a successful Energy Transition. Today's political decisions have to be open to a broad mix of energy sources and technologies. Furthermore, we need increased efforts in sector integration. The project partners DREWAG Netz/ENSO Netz, ENERTRAG, GASAG, inetz and ONTRAS have prepared a fact sheet and short version of the CtC2050 final report in English. The full version of the final report by the author Wagner, Elbling & Company is available in German.