Your connection to the ONTRAS hydrogen network
Are you a hydrogen supplier, final consumer, storage facility operator or network operator interested in connecting to our pure hydrogen network? We would be pleased to support the implementation of your project.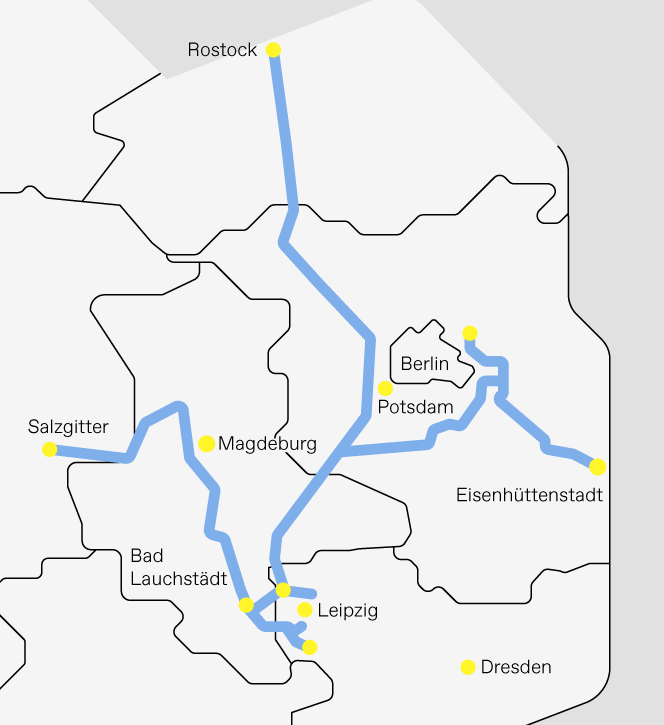 Start network for hydrogen
ONTRAS is committed to developing a comprehensive hydrogen network in eastern Germany – integrated into the European hydrogen infrastructure. The two IPCEI projects doing hydrogen and Green Octopus Mitteldeutschland alone involve over 900 kilometres of pipelines by 2030. In the Energiepark Bad Lauchstädt we are already in the process of switching the first natural gas pipeline completely over to the transport of hydrogen. By doing so, we are establishing the foundation for a rapid market ramp-up and are providing the necessary capacities for pure hydrogen.
If you are interested in connecting to the hydrogen network please get in touch with us. For concrete projects and connection plans to our ONTRAS hydrogen grid, please use the grid connection data sheet for hydrogen injection* or for hydrogen offtaking*. If you are looking to blend, you can find important information on the following site: blending of hydrogen.
*Note: The current documents will be available again shortly.
Gas quality
The gas quality requirements for hydrogen as the base gas are defined by DVGW standard G260. Hydrogen has now been established as the 5th gas family. There are two groups, which differ in purity:
Group A: Fraction H2 ≥ 98 mol% to < 99.97 mol%
with minor components of the 2nd gas family for repurposed pipelines
Group D: Fraction H2 ≥ 99.97 mol% to ≤ 100 mol%
in line with DIN EN 17124 for fuel cell application
Our network is the ideal starting point for the development of a hydrogen transport infrastructure. We can only develop a hydrogen network that optimally covers future demands together with our customers. Let's get talking about it!